Has there ever been a time when you almost lost Your faith? How did you reconcile your relationship with God?
I was recently approached with these questions and as they intrigued me, I thought I would share my answers with you.
Has there ever been a time when you almost lost Your faith?
I remember vividly the time when I held onto my faith by just a thread. It was about four months after my baby girl Megan had died and I wrestled with this troubling thought, "Why didn't God heal my baby after I had prayed and begged for the 40 days she struggled to stay alive in the hospital NICU?"
This time of wrestling occurred during my 28th year, but my love relationship with Jesus had begun 12 years before when I was just 16 years old. While attending a summer Young life camp, a talk was given on how Jesus physically suffered on the cross for my sins and I remember asking Jesus in awed gratitude, "You did that for me – what can I do for you?" I heard in my soul the answer, "Give me your life," and I wholeheartedly did just that. I decided to follow Jesus and seek to know Him and to trust Him with my future. What an exciting time of adventure and growth as I joined a bible study and witnessed firsthand a personal God who took an interest in every detail of my life. I witnessed over the next twelve years a God who intervened in miraculous ways as He moved in my life and in the lives of my Christian friends.
Now, as I sought answers with empty hands and a broken heart, the heavens seemed silent. I felt God's peace the day she died in my arms and in the first weeks to follow, but as the shock lifted, my questions and emotions started to build, and I tried to push them down.  Finally, feelings of anger, guilt, hurt and sorrow that I had been stuffing down finally erupted one day as I stood at the sink washing dishes. I screamed out loud to God,
"Why did you give her to me only to take her away?"
I felt hurt and rejected as I knew of other premature babies that weighed less or were born earlier who survived and were alive and well.  Each time I heard of another premature baby that survived, it was as if salt were rubbed into a wound. Were my prayers not effective because I did not have enough faith? Had God turned His back on me? My faith, hopes, and dreams crashed when my husband and I helplessly watched as her small white coffin was silently lowered into the cold, hard February ground.
A few months after her funeral, a well-meaning relative gave me the book, When Bad Things Happen to Good People by a Jewish Rabbi named Harold Kushner.  The author's thesis stated that while God is good and loving and suffers with His people, He has no control over the universe and could not prevent this "bad thing" from happening.
I wrestled with this non-omnipotent thinking as I read this book. At first this sounded as a logical way out from my conundrum, for if God has no power then I could no longer be angry at Him.  However, the more I thought on it, the more I decided that I didn't want to serve a God who had no power. Who would want to follow a God who did not have power? Didn't Jesus claim be the Great I Am? Didn't he conquer death when He rose from the dead? Wasn't the reason I had peace as I held her and she took her last breath because I knew she was now free of pain in Heaven, and the reason Heaven exists because Jesus broke the chains of sin and death? Yet this book said that He had no control or power.
So my choices were that either God has no control and He wanted to help me but couldn't, or that He has control and could have healed my baby and he chose not to. Ouch. I didn't like either choice.
The scripture that seemed to parallel my dilemma was in the Gospel of John when some of the disciples turned away and deserted Jesus. Jesus turned to the Twelve who were left and asked, "Are you also going to leave?"
Simon Peter replied,
"Lord, to whom would we go? You have the words that give eternal life. We believe and know you are the Holy One of God."  John 6: 66-69.
Similar to the twelve disciples in the above passage, I had to decide if I would follow and trust Jesus, even if I didn't understand what He was doing — even if I didn't like was He was doing. For what is the definition of Love? Love means commitment. Love is not based on feeling or circumstances.
How did you reconcile your relationship with God?
I thought I had "wholeheartedly" given my life to Him at 16, but now I needed to recommit my life to Him and trust that He who is LOVE and sitting on the throne allowed this for my good. I had a choice between continuing to grip onto to my anger, hurt, and disappointment with clenched hands, or to surrender my daughter with open hands into the loving hands of God.
As I worked on climbing out of the pit of all those negative emotions — self-pity, anger, hurt, disappointment, confusion — I started focusing on what I could be thankful for while I waited to see the good that could come out of this. I slowly came to realize that Jesus was suffering with me and caring for me during this tough time through many people and through His Church. A priest came to the NICU to baptize Megan when she was first born. What a gift to have a priest come and visit the hospital and offer the sacrament of baptism. My home church had a full graveyard but found a small plot so we could bury her and gave her the respect of a full burial and service. What a great comfort to visit her grave through the years and my husband found relief tending the garden around the grave as his way to actively grieve. St. Ignatius Church also gave us a room to dedicate to our daughter since she wouldn't have a room in our home. We hired a muralist to paint a Noah's ark themed room with carefully selected bible verses to go with each scene. Noah endured 40 days of rain similar to the 40 days Megan spent in the hospital. The biblical meaning of 40 days as a "time of completion after a period of trial and testing" gave me great comfort, as did the rainbow that God gave as a sign after the storm dissipated.
As an adult converted to the Catholic faith, I came to appreciate the memorized prayers of the Lord's prayer and the Hail Mary as I fell back on them when I didn't have the energy to pray conversational prayers while I spent time in the NICU. I also realized the gift of having the Mother Mary advocate for me as she is so close to his throne. Just as I called my best friend Janice to pray for me, I realized that we have so great a cloud of witnesses up in heaven close to Jesus' throne that we can ask to carry our prayer requests up to God's Throne.
Yes, God had not rejected me but had been there every step of the way: Grieving with me. Collecting my tears. Assuring me of Megan's home in Heaven through scripture.   
I realized one momentous day that God did answer my many prayers for Megan's healing, for she is now "healed in Heaven," free of all pain, sickness, and sorrow. She is now praying for me and my family as we are still left in this broken, sinful world.
I still do not know all the reasons why our baby only lived 40 precious days. But I have learned that after the 40 days of testing in the Bible, there is always change and growth. My young toddler faith, which expected God to answer all my prayers, slowly changed to a more mature faith, with roots that, especially during this dry period, went deeper down into the ground. My spiritual experience is similar to how in a marriage one must navigate going from the infatuation stage to a deeper long lasting sacrificial love. Love is commitment and, for better or worse, rich or poorer, whether my prayers are answered the way I want, sickness or in health, I have chosen to follow Jesus.
I still believe God can heal and answers our prayers on earth, but I also know that He doesn't always give us what we want because He is God and knows more than we as to what is best for us long term. As a result, I now always end my prayers with, "Thy will be done," for I believe that God is good, God is love, and God is in control.
Just this weekend, twenty-one years after Megan Elizabeth's death, God is still assuring me in miraculous ways of how He is in control. After my granddaughter's baptism, I was reminded that my husband and I gave an envelope with money in it to the two men who dug Megan's grave, as it was such a bitter cold day and we were so appreciative of their service. They told us that they could not accept the money but would use it as the first money to be put in a fund for the new larger church to be built near the graveyard — seed money.
On Sunday our granddaughter, who was named after Megan Elizabeth, Megan Elise, was baptized in that new church. She was baptized from death (original sin) into life in the church built with the seed money given to dig her namesake's grave. Who but God could orchestrate such a beautiful analogy but the God who gave the rainbow after Noah's 40 days and nights?    My many tears have turned into such overwhelming, goose-bumping Joy.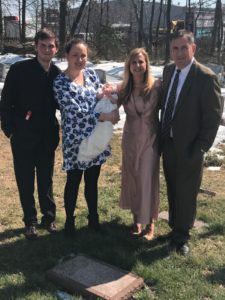 Psalm 126: 5-6
Those who sow with tears will reap with songs of joy.
Those who go out weeping carrying seed to sow,
Will return with songs of joy carrying sheaves with them.
So my prayer for you, Sweet Sister, is that you will be honest with God through the years and share with Him all of your thoughts and feelings (in your mind, or better yet in a journal). He wants a real relationship with you, and that will include some wrestling.
Most of all, I pray you will always know that anything that happens is always filtered through His loving fingers and He works all things out for those that Love God and are called according to His purpose. (Rom. 8:28)
He is good          He is Love          He is in control.
Ask your Generous abba (daddy) for help, but always end your requests with, "Thy will be done."
His Forever,
Amber O'Brien