Hello Sweet Sisters:)

Please help me to welcome our sweet and salty sister Lynn Moratis. Lynn is a true Proverbs 31 woman who with great style wears the many hats of:  wife, mother of two young men, nurse and vice president of a regional care coordination program. Sit back and enjoy a bonbon as she writes Part 2 on her teaching on Jesus being "the bread of Life."
Do you ever feel like you are  in the movie "Forest Gump", when Forest so honestly relays the line " Life is Like a Box of Chocolates, You Never Know What Your Going to Get"? I think we all feel that way some days, don't we? Thankfully, though there is an answer and that answer is Jesus.
I've never doubted my belief in Jesus and the one that God has sent to us. However, at times I did not pursue a close relationship with him and this left me empty. It also reminds me that even though you don't always know what to expect, he does. He will meet your needs, he will fill you up. It's not always what we wanted, expected or hoped for, but recognizing and leaning on the power of Jesus gives us the reassurance to keep going on.
Have you ever thought that having a closer relationship with him would be hard, that it's not obtainable? That you have to make major changes to do this? It's really simple, so read below to see what he tells us about believing in him.
Remember now that Jesus has been busy throughout the book of John teaching, preaching and working miracles – all leading to his crucifixion. The people are well aware of the miracles he is working. That being said though; they are still looking for more, but he plainly tells them to seek spiritual fulfillment:
"John 6:27, Labour not for the meat which perisheth, but for that meat which endureth unto everlasting life, which the Son of man shall give unto you: for him hath God the Father sealed".
They are looking for a sign from Jesus as they ask him about what they need to do to follow God, but like many things in life the answer is more simple that we would think as Jesus tells them in John 6: 29:
"This is the work of God, that ye believe on him whom he hath sent".
Jesus is making it very clear that he is the bread of life. They are seeking a physical sign and he's sharing a spiritual fulfillment. He tells them in verse 33 "For the bread of God is he which cometh down from heaven; and giveth life unto the world".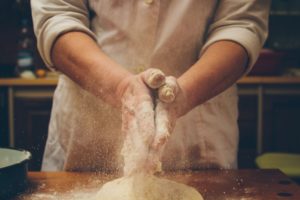 In verses 35 -40 we learn that Jesus is the source, but the true provider/giver of the source is God the Father. We are learning throughout these verses, Jesus is the real bread, while the people are looking for more, the real source, the real bread is right in front of them. It's obvious, but they aren't getting the obvious.
Again, much like our lives, we sometimes don't see what is right in front of us. Jesus was obedient to his Father's will. What is our role? What is expected of us from these verses, what was Jesus asking the people to do? Again, I must say it is simple – we just need to believe and pursue him and in return we have the gift of eternity. Of course in our belief, our lives should demonstrate him: love, service to others, pursuit of holiness, pursuit of wisdom.
Believe and pursue him – I can't think of a better way to prepare for the unexpected chocolate's we are all sure to face.
In my journey I have found that he loves us unconditionally, he is a true friend, he is the true source when other's fail. A relationship with him is like your favorite food, dress, or gym routine- it's meant to be shared, so other's see him in you. Sharing him is easily seen in how we live our lives, how we speak and how we forgive.
Please, don't keep the true bread of life a secret and don't be afraid to pursue him, the more you pursue him, the more he will reveal himself to you and you become like him. I can't think of a anybody else I'd rather be like – can you?