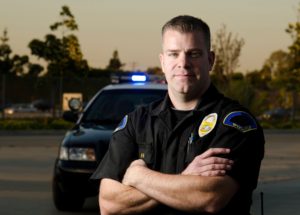 "Noooooooo!" I screamed in my head as a policeman stepped out into the street and motioned for me to pull off into a side street that included more police and cars who also had been caught in a local speed trap.  I had been enjoying  my christian rock station that my family jokes changes my gas peddle foot to lead.  My joy soon popped like a balloon as my heart sunk and my breathing increased.  For this was not the first time that I had been pulled over. The last time just a weeks earlier. So while silently I prayed, "Please Lord …have mercy…please let this be a warning".  I also thought," but…..I deserve a ticket." I had been give the gift of a warning before and I knew better.
An officer came to my window  and announced that I had been driving at 44 miles per hour in a 3o mph zone. "I didn't know" I mumbled.  Of course I wasn't going to argue. Out of respect for the officer and his role but also because I am prone to driving too fast and I should know better.  I'm sure he was correct.  I started to condemn myself for I hadn't learned from the other time. He took my driver's licence and registration
As the painful wait continued,  I prayed for  mercy again knowing that soon I may have to deal with points on my driving record (increased insurance costs etc…)  and an angry husband. Most of all, I would be facing a conscience who wouldn't stop condemned myself for doing the same mistake once again.  Time dragged on as I anticipated the consequences that I would soon face.
The young officer finally came back and told me that I had received just a warning! "Oh thank you Officer. God bless you." I told him twice over.
As I drove away, my soul felt free and with a grateful heart I keep saying over and over…" thank you Lord ….for grace upon grace. I deserved a punishment and you set me free. Oh Thank you Jesus."
Have you ever received mercy when you didn't deserve it? Have you ever had a Red Sea crossing moment when God carried you from the slavery of Sin to total forgiveness and freedom? This is what it means to be "born from above".  God sent his only begotten son Jesus to take our punishment so we could drive away scout free.
 Beautiful, marvelous undeserved Grace upon Grace.
In your mercy you led the people you redeemed; in your strength you guided them to your holy dwelling.                 Exodus 15:13   
These are the words of the ex-slave Israelites after they walked to freedom as the Red sea was parted and then swallowed up their captors. They danced and sang on the other side as they thanked God for His saving grace.
Now imagine these feelings of relief, joy and gratitude  and then times them by a billion trillion and that must be like the true freedom a Christian receives who has died and is set free from their aging body.  A believer whose soul has been released into the arms of his heavenly father.
Beautiful, marvelous, grace upon undeserved grace.