Dear Amber:
What is your New Year's resolution? and How can I stick to mine? I am stressed about picking the right goals and following through.
Dear Sweet Sister:
I understand your stress.  I have spent the last few days in prayer and study as I attempted to make my yearly goals for my body, mind and spirit. I talked to my physical trainer who encouraged me to pick a physical and a nutritional goal. I studied my monthly planner who encouraged me pick a theme (word of the year) to set my priorities and to make goals for all of my relationships: Family, friends, business. The stress mounted as I thought about all the people in my life and how I wanted to help them all and yet with another year passing, I know how little time there is in every day to accomplish so much.  So instead of an excitement over the new fresh year, soon I was feeling overwhelmed with all I felt I "should" accomplish.  I see why some choose to just not make any resolutions or goals at all…..the fear of failure is crippling.  But I for one know that people that set goals accomplish more that those who don't and that writing them down and coming back to them increases the likelihood of them being realized.  If a resolution is defined as "a firm decision to do or to not to do something" then our focus should not only be on what we plan to do in 2020 but also what we plan not to do.
So what should we do Sweet Sister?
First, what should our number one focus and priority be as Christians ?
"Therefore, since we are surrounded by so great a cloud of witnesses, let us rid ourselves of every burden of sin that clings (distracts us) to us and persevere in running the race that lies before us while keeping our eyes fixed on Jesus, the leader and perfecter of faith."        Hebrews 12 : 1-2
 Our goal to to run after Jesus keeping our eyes fixed on Him,  to stay on the narrow path and to invite as many of our friends and family to come join the race.
So ask yourself these two questions?
What is weighing me down or distracting me from following closer to Jesus?   Is a person, social media, a hobby, an addiction,  T.V., clutter, love of sleep..?…..What do I do first when I wake up instead of spending a date with Jesus? What do I need to take away so I have more room to grow in my relationship with Jesus?
How can I be sure to stay close to Jesus in 2020? Do I need to go to bed earlier? wake up earlier? make a pact to not look at emails or Facebook until I  have sat in quiet and became still before my Lord and Savior? To not exercise my body until I have exercised my soul? Maybe decide to read the good news before I  read or watch the depressing news on T.V?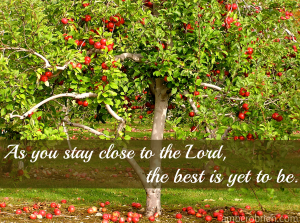 We are promised be bear good fruit, if we remain close to Jesus. So this needs to be our Top priority. He will guide us each morning as to all the other goals.  We don't know what the future will hold and what we will face, but if we meet with God and walk and talk with Him on a daily basis, we will know at the right time what we should do.   When we have our "date time" then we can ask…How can I take better care of the body you gave me?  How should I handle this business decision? How can I show Love to this person who really rubs me the wrong way?
Now this is really important Sister. Write down what you plan to get rid of and hand it over to Jesus.  You need to make room for Jesus and so some housekeeping must occur in your heart.  Don't just think about it….write it down. now:) 
Next, write down how you plan to improve or add your personal relationship with Jesus.  Will you make a commitment to not look at Facebook or emails when you wake up until you chat with the one who loves you the most ? Or make a commitment to attend your church more ? and Join a small group bible study?
Just as an athlete makes sacrifices and trains with others that are like- minded, as Christians we need to keep our eyes fixed on Jesus and  find like-minded sisters to keep us accountable and encourage us.
So Write down what you will remove from your life or only do after you spend time with Jesus……….and then write when and where you will meet him for your daily "Date".  I have a special place and chair and if I fail to allow for some good, sweet time to chat with Jesus and tell Him what's on my heart, I imagine in my mind's eye that He quietly waits until I do make time. Love is patient and He will not force His love but quietly waits for us to make room.   I hope we look back on 2020 as the year that no matter what happened around us or to us that we kept our eyes fixed on Jesus and we persevered in running the race.