Four years had passed since I'd last seen Annie and her daughter, and as she approached me, my heart froze, halting between joy and trepidation. Children's laughter filled the air during the annual family carnival hosted by my preschool, but all I could focus on in those few moments was my last interaction with Annie. I was overjoyed to see her, yet I feared our reconnection might be marred by the fact that I had fired her years ago. Was she angry with me? Was she here to confront me about what had happened? How much had changed in the time since I'd last seen her?
Annie had worked in the infant room of my preschool. Not only did she lovingly care for each infant in her classroom, but she cared for her room as a whole. She loved a clean classroom and the order it provided; she meticulously cleaned each item and table, and continuously tidied up to keep the room spotless. Her daughter, Jenna, thrived in the preschool, as well. Jenna's father had died in a car crash soon after she was born, leaving Annie a young, single mom. We joked how Jenna was Annie's "Mini-Me" as they looked so much alike. She was a diligent and determined young woman who took great pride in her work and I was glad to have her as an employee.
After a year of teaching in the infant room, Annie was faced with another tragedy. Her best friend suddenly died of an aneurysm and her world spun out of control. Her focus shifted from her classroom as she processed this new grief on top of her older grief. Instead of working through her grief, Annie put her efforts into attempting to numb the pain. Noticing she was struggling, I invited her into my office and tried to encourage her to join a grief group, but she was not yet ready to face her grief head on. She was trying to outrun her pain, and it was wearing on her. She increasingly called out of work, and on the days she did show up her co- teacher ended up doing most of the classroom duties. My heart ached for her, but as the owner of the preschool, my main responsibility had to remain the children, and providing them with the best care possible. I was torn. I had compassion for Annie and her situation, but I also had compassion for the children in her care and her co-teacher. I wrote her name in my prayer journal and prayed for her each morning. I hoped and prayed that she would find healing some way. That she would learn healthy ways to handle her grief. That her weariness would lift. That she would return to us, the focused, caring, diligent teacher we all knew and loved.
Then, another teacher reported Annie had nodded off during the children's nap time. This is a major violation of my school's policy. My director brought her into my office to discuss our concern. On a Thursday afternoon, I told her that she needed to make some changes in her personal life and to take Friday off and come back in Monday with a fresh start. I also had to inform her that if it happened again I would need to fire her.
She came back in Monday, and I was hopeful that she had made some positive changes. But a few days later when the children were resting she dozed off again. As the owner and lead supervisor on site, I knew what I "needed" to do, as the safety of the students must come first.  However, asking Annie and her daughter to leave was the last thing I "wanted" to do. I invited her in and told her that she needed to leave immediately. Annie was very quiet and did not dispute that she had fallen asleep. She calmly picked up her daughter and left the building. My heart grieved as she walked out the door. The last thing I'd wanted to do was send her off when I knew she was grieving, but I knew it was the right decision for the school. For years, I questioned my decision. I wondered if I had failed her. I wondered what had became of her and Jenna.
And so four years later when she stood before me, I was filled with mixed emotions. I was so happy to see her and her beautiful Mini-Me. I was relieved and overjoyed that they seemed to be doing well. But I couldn't help but wonder how she was feeling toward me now. I couldn't help but wonder how my decision had impacted their lives.
As Annie and Jenna approached,
Annie looked me in the eye and said, "Thanks for the wakeup call." 
She wasn't angry. She didn't blame me or my staff. She was grateful. We hugged and caught up and she and Jenna returned to the carnival.
I was blessed with the opportunity to rekindle a relationship with Annie and to learn more about what was happening during that time. She confided that she felt her life was falling apart and felt lost. She had settled into a toxic, abusive relationship and had lost the will to fight for herself. Instead of heeding my advice for a grief support group, she continued to let her world spin out of control, staying out late with friends and not getting enough sleep. I learned that Annie struggled with being alone at night and was prescribed medication for anxiety that had made her excessively tired during the day. She shared her sorrow at being fired from the place that she loved so much, but that it served as a much needed wakeup call. Unsettled by being asked to leave, Annie was driven to start fighting for and taking responsibility for her happiness, step by step. She found new friends, a new boyfriend, and a new job as a nanny. Annie told me,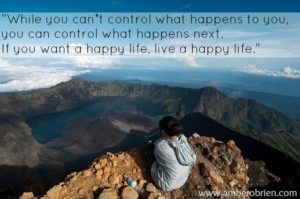 "While you can't control what happens to you, you can control what happens next. If you want a happy life, live a happy life."
Annie's words of gratitude felt like a spring rain after a dry, cold winter wait. I was grateful that my tough decision had positively impacted her life. How many employers have an employee they have fired come back and thank them? I was grateful for the confirmation that sometimes tough love is needed in tough situations. I no longer questioned myself and wondered if I failed her. I rejoiced in knowing that she had taken control not only of her grief, but of her life and her own happiness.
As I shared with my husband my interaction with Annie, we both felt that we would like her to come back and teach in our school. I am a big believer in second chances, and knew in my heart that Annie had more than earned hers. We called her and asked if she would like to come back to work for us. Providentially, the family she was working for was moving to Florida. She used this opportunity to return to our school as a long term substitute. She came back full of joy and energy and the hard work and dedication we had initially seen those years ago. Soon, she was back to being a full time teacher. Her first year back, Annie won Teacher of the Year. She has now been with us for three years and I am grateful to have her.
Who would have thought that letting her go was the wakeup call that would bring her back? Only the God of wakeup calls and second chances.