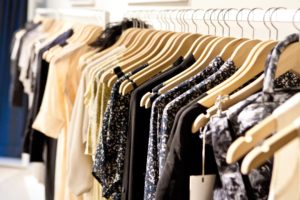 It all started innocently enough. My husband was out of town, so I took over the dry cleaning for him as this normally was something he took care of. We had been using this dry cleaner for over 20 years which is owned and operated by an Asian couple who still struggled with English but have faithfully worked to run their own business year after year.
The female store owner recognized me but she didn't seem interested in small talk. "Phone number? " She demanded in broken English.
I gave her my husband's cell. She seemed irritated when it didn't work.  Next, I next gave her my cell. It didn't work either. I then gave her our old home number that we don't use anymore.
I just wanted to drop off the clothes. I gave her my husband's cell again.
Then she started to ask me something that I couldn't make out. She seemed offended that I didn't understand her and as her frustrated rose  she walked away from the counter. When she came back, I asked if I could pick it all up by Saturday (3 days later) as we both were going out of town on Monday. (I didn't realize how early at the time) This is the first time I've ever asked for a specific day, but I needed the dresses for the convention.
"can't do that ", she said stubbornly.
"Ok" I said bowing down…" How about early Monday?"
She said 8am. Problem averted I thought. I'll just pick up the clothes early Monday even though they are closed on Sunday and the clothes would most likely be done on Saturday. It's fine, I thought. She must have been having a bad day.
Chatting with my husband later that day, he informed me that we were leaving early (like 7am early on Monday).
"No!"  I thought. I need to go back and face this bitter, unhappy women?  I need to ask her for a favor? I started to make a game plan as I drove over. I would ask her nicely after I give her the old phone number that she still has in her computer. I would apologize and take blame for not knowing what number was in her system. And if she wasn't able to help me? I would ask for the clothes back and have them cleaned at our hotel.
"Hello", I smiled as I walked in.
"clothes are not ready" she barked out without a smile.
"I know" I said still smiling "I found out from my husband the number you have in your computer . I'm so sorry as it is a 20 year old number." She put it in as I waited to ask her for my request.
"So I just realized that we are leaving at 7 am on Monday morning. I was wondering if I could please pick up the clothes on Saturday?"
"No..can't do that"
"Then can I have my clothes back?" I countered.
"No…they all mixed up back there…I no can find them".
I tried to remain calm but part of me was thinking of calling for backup. Like 911 backup. I could feel the tension rise as my face felt flush and the claws in my hands started coming out.
"Can't you use the numbers on the receipt to find them?   I inquired. "Those are my property".
We were at a standstill. My clothes were now held hostage and like two cowboys in a western film we both had our hands on our weapons. And so  I tried a different tactic.
"20 years".  I said with pleading eyes and a questioning voice.
She just looked at me …we both had our paws out, claws ready.
So I then tried my last resort plan.  I made a threat.  "If you don't help me, my husband won't come here anymore."
She agreed that I could pick them up at 5 pm.
"Not one minute earlier"  she said.
And then she gave an explanation of her frustration in rapid execution, but I could only make out the phrase, "it is smelly back there." ..then she turned around and with her back to me she put up her right hand in a "never mind you wouldn't understand" wave.
"You both work very hard," I said…she didn't turn around.
Driving  away my heart grew increasingly sad and heavy. I would receive the clothes earlier and I didn't need to call the police; but I started to put myself in her shoes and the Holy Spirit began to convict me.
Continue reading "The Day the Drycleaners Held my Clothes Hostage and My claws Came Out"