The Topic for Day #12 is on how to develop our friendship with God.
Would you like to know how I began my sweet friendship with God? I'm so glad you asked………………
Sometimes the questions that we cannot answer right away have the biggest impact. At least I know that to be true for me. It was three of these kinds of questions that set the stage for the most important decision of my life.
More than 35 years ago (I must have been in my early teens at the time), I vividly remember walking along the sidewalk at a strip mall when a stranger stepped forward and asked me,
"Do you know Why Jesus died on the cross?"
I did not have an answer.
I mumbled "I don't know" as I quickly walked by, my adolescent shyness overcoming my curiosity. I am sure this sidewalk evangelist also offered some talking points and a leaflet, but I moved too fast and ran into a store.
However, like a persistent dog, the question followed me, nipping at my conscious and never leaving my side. In my thoughts, I sought to figure out what crime (it must have been serious) that Jesus committed to be so charged and crucified.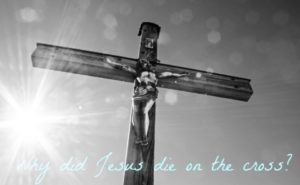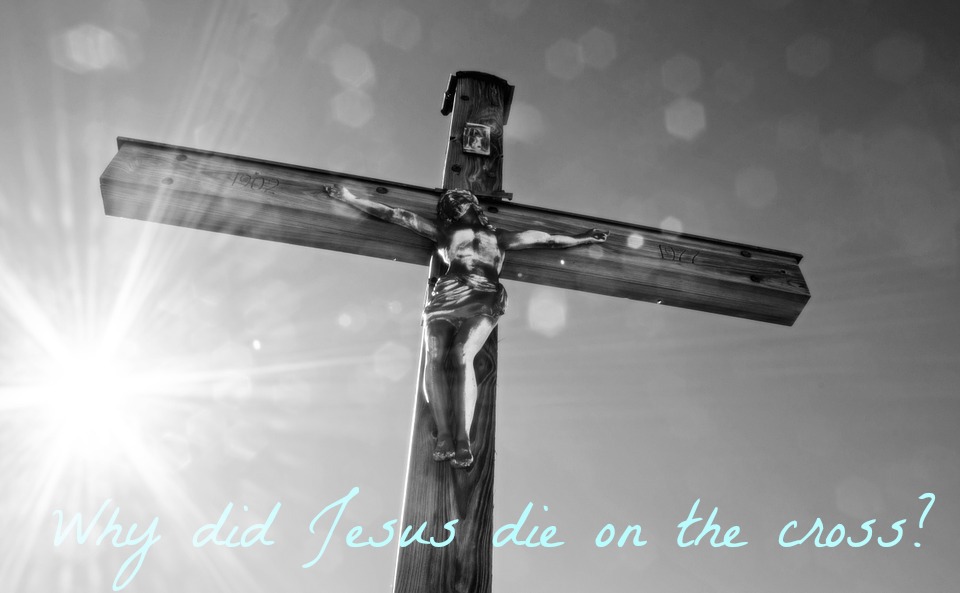 The question lay dormant for years, just as a faithful dog rests by his owner's feet.
Although most would have described me as a shy and sensitive girl, looking back upon my childhood, I realize that I broke several of the Ten Commandments. For example, I stole a roll  of stamps from my grandmother (my sweet, wonderful grandmother who was a widow and supported herself). When questioned about it, I added to my guilt by denying that I stole it, then I proceeded to sell it to my brother. I didn't need the stamps (which made the deed even worse), and I sought to get rid of the evidence. However, while the physical evidence disappeared, these and my other unconfessed sins remained heavy on my conscious. I also remember my best friend and I writing a cruel letter to a mutual friend. We said we wished her pet hamster died and all sorts of other hurtful things. I fell to peer pressure and ganged up against this poor girl. Meanwhile, I protected myself and continued to make poor choices. It seemed that I sinned against the people who were closest to me and trusted me.
I am even more embarrassed to admit that I self-righteously loved to keep notes for my parents of all the terrible things my three brothers were doing. I actually kept a notebook listing the many ways my brothers disobeyed the rules of the household, so I could tattle on them when my parents returned home from a night out. So in short, I covered up my own trespasses and hypocritically enjoyed pointing out other people's.
About the time I entered high school, I started attending Young Life meetings in the homes of fellow classmates. Young Life is a Christian youth outreach organization for high school students that included silly skits and fun music; sort of like a G-rated Saturday Night Live show.  In the packed living rooms, we swayed to the guitar music and laughed as our friends and the Young Life leaders performed humorous skits. It was such fun to sit with my girlfriends and sing and clap to songs like, "Under the Boardwalk,"  while cute boys played guitars and made us giggle with their shenanigans. My awareness of the opposite sex was growing and I would quickly became infatuated whenever one caught my eye. More importantly, my awareness of God's love was increasing too.
The college-aged volunteers in my Charles W. Woodward Young Life chapter were such caring and committed individuals who sought to help us through our tough high school years. They spent their free time joyfully planning meetings and driving buses to weekend retreats. The same joy I experienced in the meetings, I could see in our leaders lives as they continued to love us unconditionally.
In the midst of the silly joyful and loud songs, one melancholy song struck a nerve and became my second defining question. "What's Forever For?" by Michael Martin Murphey was a song we would often sing during the large group meetings. The song's chorus asks:
So What's the Glory in Living
Doesn't anybody ever stay together anymore?
And if Love never lasts forever
Tell me what's forever for?
I even remember inquiring with a volunteer about why this song was included on the playlist, as the melancholy, slow chorus seemed so sad to me. The romantic in me didn't want to accept that Love could end. I don't remember the response I received, but I do remember a stirring happening in my heart as I considered the end of the chorus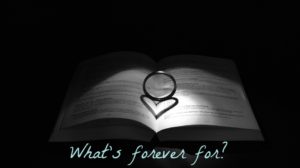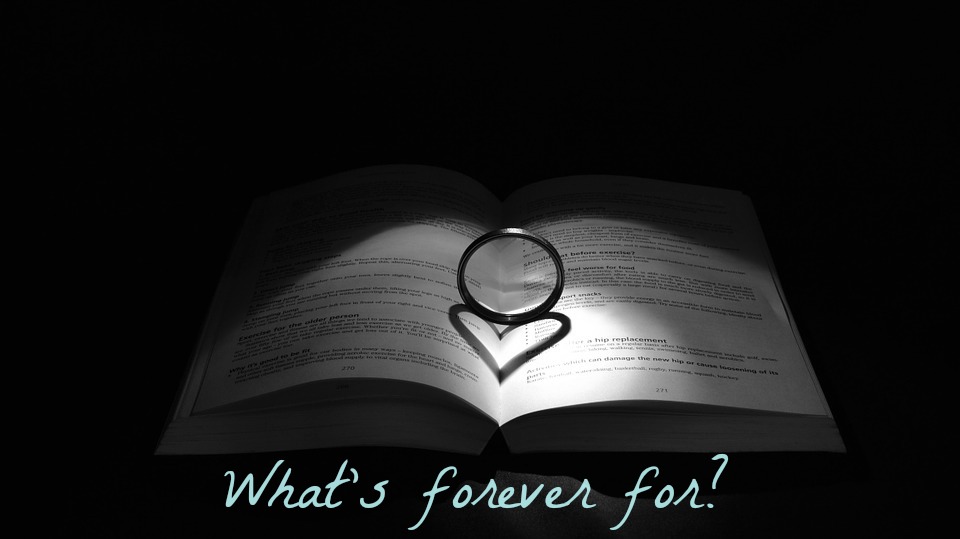 During  those awkward middle school years prior to this time I certainly did not feel lovable or attractive. I sported large, rounded glasses with thick lenses and wore braces and at times even a head-brace that went on the outside of my face (not very popular with the guys). Some peers called me "airbrain amber" (as I thought deep internal thoughts) and the negative teasing chipped away at my self-esteem. 
During the summer before my sophomore year, I traveled with my chapter to the Young Life camp in Saranac, NY. During the adventurous week of camp, I walked on a high ropes course and parasailed off a sandy beach. There were so many fun, new experiences, but most of all I remember sitting in an audience of scores of other 15-16 year olds as each night ended with a talk about God and His love for each of us. The end of the week approached and the closing talk focused on how a human physically suffers when crucified. I remember hearing how a crucified victim agonizingly must lift up putting weight upon his bloody nailed feet to achieve enough air to take a breath and fill his lungs.  Then the dying man would lower down pulling upon his throbbing, wounded wrists.  Learning about this slow struggle for air that caused Jesus so much pain shocked me to the core.   I thought to myself,  " Why would a God of love allow His perfect son to suffer so"? as I imagined Jesus suffering on the cross after being whipped close to the point of death.
The speaker's words startled me, as a dog's urgent barking awakens his master from a deep sleep – he pointed out that it was MY sins that separated me from a Holy, Loving God.  Just as in the Old Testament a spotless lamb was needed to atone for sin; God sent his precious spotless son to die in my place.
"What?" I gasped silently as my heart quickened. My sins? The answer to the question, Why did Jesus die on the cross?, all along was………………….. ME?    
The speaker explained that Jesus died on the cross because the God of the universe saw me sitting on death row in my ugly selfishness and offered up His one and only perfect son to suffer and die so that I could be with Him in heaven for eternity.
God's sacrificial and unselfish love flooded over me as I sat alone by a tree in the woods after the talk. God did not use fear or threats of future doom to attract this tender heart. No, Love whispered my name and asked if He could come and be my forever friend. The mighty God of the universe wooed me with patient kindness.
I looked upward and responded to Jesus with these words which flowed from a heart overcome with surprise, gratitude and awe.
"You did that for me?"
What a shock to realize that the holy God of the Universe not only knew intimately my ugly selfish heart, but also loved me so much that He gave up His life in hopes that I would accept His gift of not just a future reunion in heaven but communion on this earth with me as well.
The Bible confirms this supernatural Love, "But God demonstrates his own love for us in this: while we were still sinners, Christ died for us." Romans 5:8  
As I pondered such an indescribable gift of Love, my third and final question formed as I looked upward.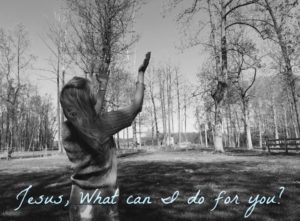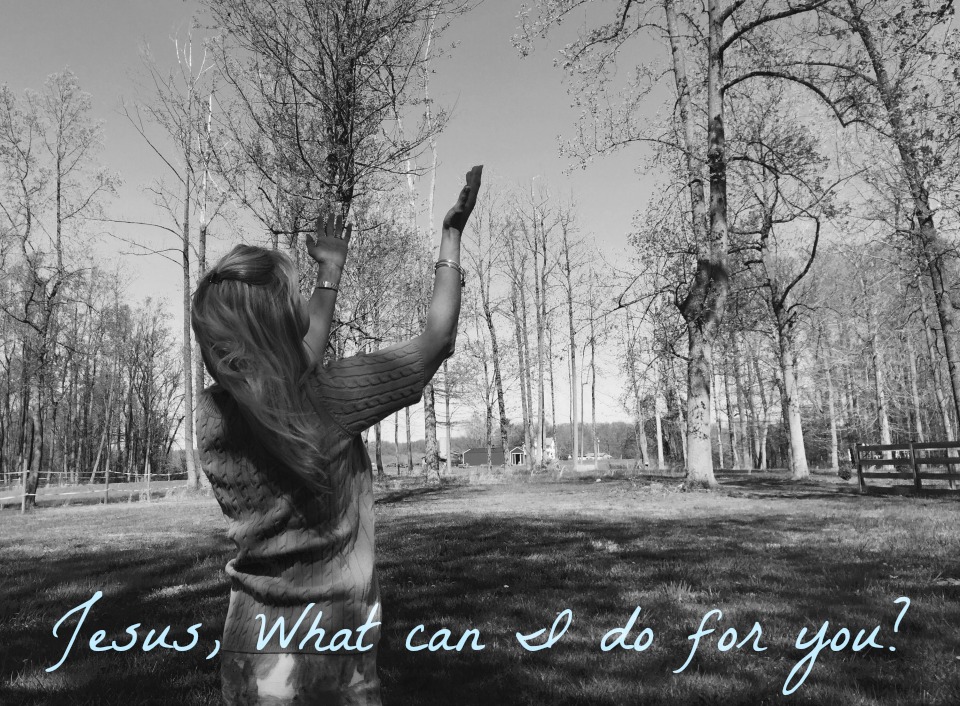 "Jesus, What Can I do for you?"
"Can we give God anything?" you may be thinking. I certainly had no gifts to offer. Just an unattractive, insecure, shy, wounded, and misguided teenage girl in the world's eyes.  
Ever so gently a still small voice softly spoke into my spirit.
"Give me your life."
Yes. My gift could  be myself – my unknown future, and all my dreams and hopes wrapped up in a bow.
"Yes, Oh Lord. I give you my Life."
Alone by a tree in the woods of Saranac, the depth of my gratitude evolved into a lifelong decision of commitment.  I offered my heart back to Jesus, the lamb of God, who died to make it whole.
The closest analogy I can find on earth to describe this spiritual exchange is a bride and groom as they exchange the gift of their entire lives to each other. The bride doesn't know what the future may hold (better or worse, richer or poorer), but she is willing to accept whatever may come if her trusted groom is by her side.   
I recently located the journal I wrote in when I returned from the trip. What is interesting about that journal isn't what I wrote, but rather what I didn't write.  I didn't write about all the fun activities, cute boys, or the many new friends formed.  
Instead, I wrote,
"I just got back from YL camp in Saranac. I could go into all the details about the things we did there. In fact I may do that later on. But the most important thing that happened there or maybe in my whole life was that I gave my life (heart) to Jesus. This means that I am putting my life into his hands."
Well, 33 years later I can state with experience that it was the most important decision of my life.  My bridegroom Jesus has proven to be my best friend through thick and thin. He has never left my side. He has given me joy and peace to overflowing.
I returned home and began attending a bible study group and found true friends who encouraged me as I learned more about this amazing God who desired to have a deeper love relationship with me. Since my self worth now was based on God's opinion of me, and with the help of the Holy Spirit, I found self control and self confidence to resist peer pressure and to have self respect for myself and the body that God has given me. Believe me, I am not saying that I no longer sinned or all of a sudden became unselfish. Sanctification is a lifelong process and I still have so far to go. However, the gift of the Holy Spirit convicts me if I have sinned, and I now know whom to go to to humbly confess my many sins and seek out ways to show that I am sorry. God has also given me the help to forgive others as he gives me compassion and understanding for others.
What is joy? To be released from your death row jail cell and to then spend the rest of your life sharing with your cell mates how they can be set free, too.
I want to be real my friend. Following Jesus does not guarantee a life free of trouble. His disciples all faced challenges and all kinds of sufferings. In fact, Jesus himself said, "I have told you all this so that you may have peace in me. Here on earth you will have many trials and sorrows. But take heart, because I have overcome the world." (John 16:33 NLT)
I certainly have not lived a life free of pain or disappointment.  The beauty of Jesus's friendship is that he walks with us and never leaves us alone.  Do you know when I have felt God's peace and presence the strongest? When my premature daughter died in my arms as I held her in the NICU after 40 days of much praying for her healing. The grief following her death was not easy and I was angry when God chose not to heal my baby. He understood my anger, as I believe He hates death and what it does to those who are left behind.  He patiently, tenderly stayed close by as I slowly processed that my baby was a gift from God that I needed to surrender back to Him. Just as I surrendered my life so many years before to Jesus at Saranac. Following God's lead means trusting Him to work all things out for good for not only ourselves but for His future heavenly kingdom. I now have a more eternal perspective. I believe in my soul that my daughter is now healed in Heaven. I have peace that my prayers were answered but beyond my limited sight on this side of heaven.
What is peace? To trust that all things are in the hands of a loving, good God who always takes care of His own.
I have now grown into a confident wife, mother, and business owner who loves The Bible and her sweet sisters. I don't know what my future holds, but I know that I have a friend who will be there each step of the way holding my hand until I can see Him face to face.
So my future sweet brother or sister, May I ask you a question?
Do you know why Jesus died on the cross?
No need to answer this right away. Just let the question lay at your feet and stay awhile.